Your children will start their day by happily saying goodbye to you and dashing into Tembo's Daycare keen to live more adventures.
Picking a Daycare for the first time is hard
Is it fun? Are the staff caring? Will the kids be stimulated?
A total emotional minefield.
We understand, you want your little one to have the best start in life.
So it's such a relief when you do find a Daycare you can have 100% confidence in, and know that your child is in good hands.
With a happy and warm environment to play, learn, and blossom.
A home from home.
In Tembo Daycare your child will arrive and leave with a big smile.
We divide our Daycare into two small groups:  10 to 24 months and 2 to 3-year-olds. The low teacher/child ratio ensures little ones get personalised attention, and allows your child to settle in quicker and thrive.
We ensure our Daycare is a happy experience. Your child receives positive attention (smiles, encouragement, and love) that shows them they're valued. It helps build or keep the confidence they need to explore the world and make friends.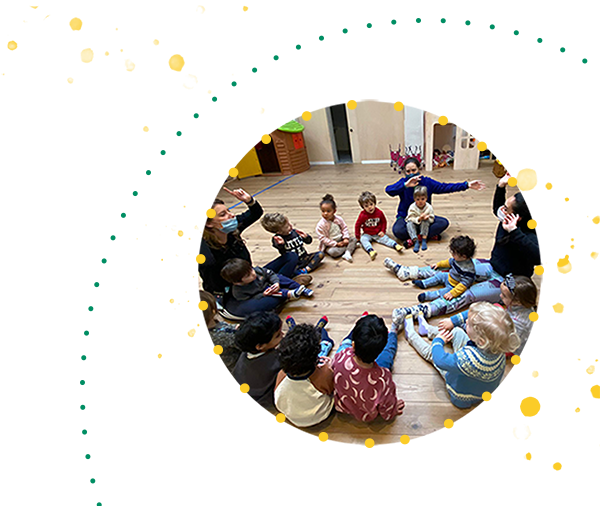 Our Daycare is in a refurbished industrial building with high ceilings and skylights. Both the natural light and the open feeling give the Daycare a sensation of freedom.
It also provides space for two separate play areas, one for babies and another for toddlers, which they sometimes share.
You can book once a week, twice, or more. You can send your child a few hours in the morning, until after nap time, or the complete day. We offer flexible Daycare bookings and schedules.
We know every family is different so we cater to your needs.
Depending on what we've been up to in the morning, we focus on numbers and the alphabet as well as cook or get arty-crafty. The children are encouraged to develop various skills.
We keep you in the loop. You can follow your kid's daily fun and educational activities in the Daycare via photos, videos, a daily notebook, and/or feedback upon collection.
You keep us updated. You can contact us to tell us about your child: they didn't eat breakfast or are more tired than normal. We ensure your child is made comfortable.
We go to the beach, the park, museums, the fire station, and any other place where your child can learn or discover every day (weather dependent). We take public transport or use large prams and all children wear a Tembo vest. 
The different environments allow them to develop and promote autonomy.
Tembo's community is multicultural, we have a nice mix of nationalities. This allows us to build mutual respect and teach your child to embrace differences.
All our carers are bilingual (English and Spanish). This means your child will learn naturally two languages from an early age. He or she will soon pick up words and songs (and much more) and share them with you.
We believe that warmth and affection create happy people.
A daycare your child will look forward to and will spark their creativity and imagination and peace of mind for you.
If you join Tembo you'll become a member of our community.
Or should I say pack? Because Tembo is elephant in Swahili and, like them, Tembo provides a safe and loving environment where little ones can thrive.
We believe everyone should have caring and supportive people in their lives to make it easier.
Belonging to the Tembo Pack     Happy Children    Relaxed Parents
What do other families that have tried Tembo daycare think?
Kay and Celia at Tembo are the best, caring and friendly. I couldn't have asked for better caregivers for our children. We used Tembo the whole 7 months we lived in Barcelona and the kids loved every day of it. Learning new things every week. But the best part is that they always had fun and felt loved. Thank you, Tembo for making this time in a new country easier for all of us"
A.N.
At Tembo, the care for the kids is outstanding and the amount and variety of activities are exceptional. Museums, the beach, parks, water games, workshops, fire station, even a professional photo session. The kids are outside and on some kind of excursion almost every day. And the low teacher/kid ratio ensures that kids get individual attention and stay safe when they are out and about. We love Tembo!!"
U.N.
"Our experience of Tembo has been fantastic and we would definitely recommend it to others! They create a lovely, fun, and warm environment for the children and genuinely care for the children as individuals. I'm really happy with my daughter's development. She loves Kay and Celia and enjoys the huge variety of activities provided. She looks forward to every day she spends there. Thank you!"
Gianna Braithwaite
Contact us and schedule your visit – take a peek at our daycare center and have a talk with one of the owners.
Book a trial day (from 9.00 am to 12.30 pm) for your child, if you wish, before deciding if you want to become part of the Tembo pack.
Choose the schedule that suits your needs:
9.00 – 12.00 / Collect your child before lunch.

9.00 – 13.00 / Lunch in Tembo.

9.00 – 15.00 / Lunch and nap in Tembo

9.00 – 16.30 / Your child stays for the afternoon activity
You get to access Tembo a little earlier, so you can talk and meet the whole team.
We keep in touch with you privately, to let you know how your child is getting on. We also send you photos of what they're up to.
Your child stays at Tembo from 9.00am until 12.00pm for as many days as you wish or until you both feel comfortable with the new routine, and environment.
Next thing you know, your child is running in happily to seek new Tembo adventures. 
And your family has become the pack's new members. 
You're interested but still have a few more questions
Remember Tembo's groups are reduced, so be sure to reserve a place before we get fully booked up.
Fill in the form and send your information. We'll contact you within 48 hours.