Cada mañana tu hijo/a entrará corriendo a Tembo con una sonrisa de oreja a oreja para reunirse con sus amigxs y vivir nuevas aventuras.
Elegir una daycare en Barcelona es un proceso estresante porque te juegas la felicidad de tu hija/o.
¿Se divertirá? ¿Sabrán consolarle si llora? ¿Sobrevivirá sin mi?
Un cúmulo de emociones.
Lo entendemos, deseas acertar en tu decisión para que tu peque empiece su vida con buen pie.
Imagina el alivio que sería contar con una daycaer que te transmite confianza y seguridad.
Además de aprender inglés de forma natural.
In Tembo Daycare en Barcelona tu hijo/a disfrutará de un entorno de aprendizaje feliz y alegre.
Dividimos la guardería en Barcelona en dos grupos reducidos: los de 10 a 24 meses y los de 2 a 3 años. Para que tu hija/o reciba una atención personalizada y se desarrolle y adapte con rapidez. 
Nos aseguramos de que tu hijo/a se sienta a gusto y valorado para aumentar la confianza que necesita para explorar el mundo y hacer amigos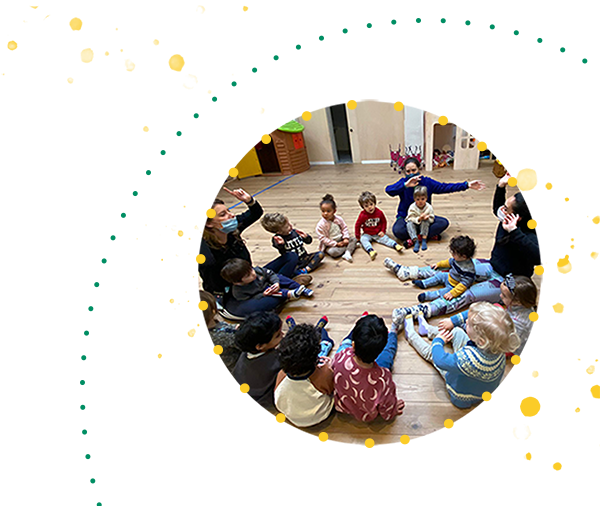 Un edificio industrial rehabilitado con techos altos y claraboyas donde la luz natural y la amplitud del espacio transmiten una sensación de libertad. Hay zonas de juego que tanto bebés como peques disfrutan junto o por separado.
Un lugar que estimulará la imaginación y creatividad de tu hijo/a.
Cada familia es diferente y tiene sus propias necesidades y ritmos. Por eso ofrecemos múltiples opciones. Una, dos o más veces a la semana. Unas pocas horas por la mañana o el día entero. 
Tú decides la opción que más se ajusta a tu familia.
Actividades de aprender jugando
Realizamos a diario, actividades que se adaptan a las capacidades de los niños: aprendemos los números, cocinamos o damos rienda suelta a nuestra vena artística. Animamos a los niños a desarrollar sus habilidades.
Te mantenemos informada. Para que sigas formando parte de su día. Te enviamos fotos y videos. Y actualizamos su diario y/o te comentamos cómo ha ido todo cuando lx vienes a recoger.
Y nos informas. Nos puedes contactar para explicarnos: que no ha desayunado o que hoy está muy cansado. Así nos aseguramos de que esté lo más cómodo posible. 
Aventuras y aire libre a diario
Salimos todos los días, si el tiempo lo permite, a la playa, al parque, a la estación de bomberos y a cualquier otro lugar donde tu hijo/a puede aprender y descubrir. Nos movemos en transporte público o cochecitos grandes y todos los niños llevan puesto un peto de Tembo. 
Los diferentes entornos les permite explorar y ser más autónomos. 
** Actualización Covid: no utilizamos el transporte público pero seguimos saliendo cada día a los parques vecinos.
La tribu de Tembo es multicultural y multirracial. Esto nos brinda la oportunidad de trabajar el respeto mutuo y enseñar que las diferencias son un valor añadido.
Nuestras educadoras son bilingües (inglés y español). Tu hija/o aprenderá inglés o español jugando y compartirá contigo sus primeras palabras en este idioma. 
Tembo es para ti que si buscas una daycare en Barcelona donde tu hijo/a entra corriendo con ganas de más y tú te quedas tranquila.
Si te decides por Tembo formarás parte de nuestra tribu.
¿O debería decir manada? Tembo es elefante de swahili y como ellos, nuestro espacio familiar proporciona un entorno seguro y feliz para que los peques desarrollen sus capacidades.
Creemos que si la gente que te rodea te cuida y apoya, la vida es más fácil y hace posible que crezcas.
Ser miembro del Tembo tribe = niñxs felices + padres relajados
¿Qué piensan las familias de Tembo guardería en Barcelona?
Esther Belvis
Mi hija ha hecho uso tanto del casal de verano como de Daycare y hemos estado muy contentas a todos los niveles; las actividades educativas, el espacio y la atención recibida por parte de las educadoras. Lo recomiendo a cualquier familia que busque un espacio dinámico, que promueva la autonomía y que atienda las necesidades de cada niño/a.
Clarisa Ferrario
Fantástico espacio en el centro de Barcelona donde los niños pueden quedar en buenas manos. Organizan excursiones al aire libre y los juegos son educativos y divertidos. ¡El personal está súper calificado, habla varios idiomas e incluso italiano! ¡Queríamos un lugar como este!
¿Qué hago para apuntar a mi hijo/a?
Contáctanos y organiza una visita. Échale un vistazo a nuestra guardería en Barcelona y charla con una de las directoras.
Prueba un día (de 9:00 a 12:30). Trae a tu hija/o una mañana antes de decidir si quieres pertenecer a la tribu Tembo.
 Elige la opción que más te convenga:
9.00 – 12.00 / Recoge a tu hijo/a antes de la comida.

9.00 – 13.00 / Comida en Tembo

9.00 – 15.00 / Comida y siesta en Tembo

9.00 – 16.30 / Tu hija/o quiere quedarse por la tarde
Podrás llegar con tu hijo/a un poco antes de la hora de entrada para poder hablar con el equipo sobre lo que haga falta.
Nos mantendremos en contacto de forma privada contigo para que sepas qué tal lo lleva tu peque y poder ver fotos de lo que está haciendo.
Tu hijo/a se queda en Tembo de 9:00 a 12:00 los días que creas que necesita o hasta que ambos os hayáis adaptado a la situación. Una vez superada esta fase de aclimatación pasará a su horario definitivo.
De todos modos si tu hija/o acusa la separación contigo de forma más aguda (no deja de llorar) te avisamos para que la/le recojas y procuramos que el proceso sea más gradual.
En menos de lo que esperas, tu hijo/a se despedirá de ti contento/a dispuesto/a a vivir más aventuras Tembo.
Tu familia se convertirá en el nuevo miembro de la tribu.
¿Necesitas más respuestas antes de decidirte?
Recuerda que Tembo es una tribu reducida(las plazas son limitadas) así que reserva con tiempo para asegurarle a tu hijo/a una plaza.
Rellena el formulario, envía tu información y nos pondremos en contacto contigo antes de 48 horas.
Your children will start their day by happily saying goodbye to you and dashing into Tembo's Daycare keen to live more adventures.
Picking a Daycare for the first time is hard
Is it fun? Are the staff caring? Will the kids be stimulated?
A total emotional minefield.
We understand, you want your little one to have the best start in life.
So it's such a relief when you do find a Daycare you can have 100% confidence in, and know that your child is in good hands.
With a happy and warm environment to play, learn, and blossom.
A home from home.
In Tembo Daycare your child will arrive and leave with a big smile.
We divide our Daycare into two small groups:  10 to 24 months and 2 to 3-year-olds. The low teacher/child ratio ensures little ones get personalised attention, and allows your child to settle in quicker and thrive.
We ensure our Daycare is a happy experience. Your child receives positive attention (smiles, encouragement, and love) that shows them they're valued. It helps build or keep the confidence they need to explore the world and make friends.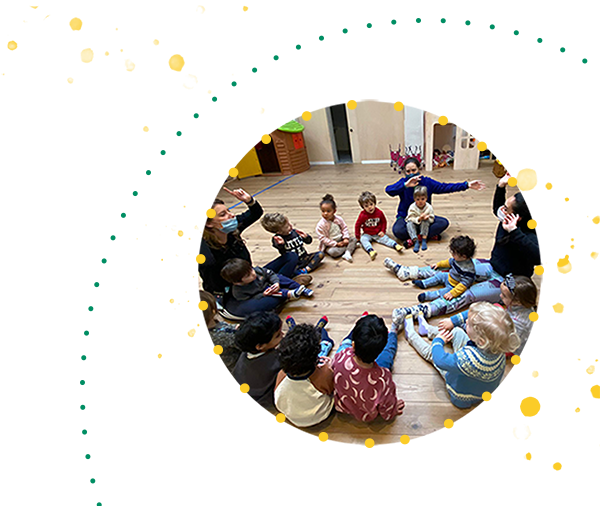 Our Daycare is in a refurbished industrial building with high ceilings and skylights. Both the natural light and the open feeling give the Daycare a sensation of freedom.
It also provides space for two separate play areas, one for babies and another for toddlers, which they sometimes share.
You can book once a week, twice, or more. You can send your child a few hours in the morning, until after nap time, or the complete day. We offer flexible Daycare bookings and schedules.
We know every family is different so we cater to your needs.
Depending on what we've been up to in the morning, we focus on numbers and the alphabet as well as cook or get arty-crafty. The children are encouraged to develop various skills.
We keep you in the loop. You can follow your kid's daily fun and educational activities in the Daycare via photos, videos, a daily notebook, and/or feedback upon collection.
You keep us updated. You can contact us to tell us about your child: they didn't eat breakfast or are more tired than normal. We ensure your child is made comfortable.
We go to the beach, the park, museums, the fire station, and any other place where your child can learn or discover every day (weather dependent). We take public transport or use large prams and all children wear a Tembo vest. 
The different environments allow them to develop and promote autonomy.
** Covid update: we don't take public transport for now although we continue to go out every day to the neighbouring parks.
Tembo's community is multicultural, we have a nice mix of nationalities. This allows us to build mutual respect and teach your child to embrace differences.
All our carers are bilingual (English and Spanish). This means your child will learn naturally two languages from an early age. He or she will soon pick up words and songs (and much more) and share them with you.
We believe that warmth and affection create happy people.
A daycare your child will look forward to and will spark their creativity and imagination and peace of mind for you.
If you join Tembo you'll become a member of our community.
Or should I say pack? Because Tembo is elephant in Swahili and, like them, Tembo provides a safe and loving environment where little ones can thrive.
We believe everyone should have caring and supportive people in their lives to make it easier.
Belonging to the Tembo Pack     Happy Children    Relaxed Parents
What do other families that have tried Tembo daycare think?
Kay and Celia at Tembo are the best, caring and friendly. I couldn't have asked for better caregivers for our children. We used Tembo the whole 7 months we lived in Barcelona and the kids loved every day of it. Learning new things every week. But the best part is that they always had fun and felt loved. Thank you, Tembo for making this time in a new country easier for all of us"
At Tembo, the care for the kids is outstanding and the amount and variety of activities are exceptional. Museums, the beach, parks, water games, workshops, fire station, even a professional photo session. The kids are outside and on some kind of excursion almost every day. And the low teacher/kid ratio ensures that kids get individual attention and stay safe when they are out and about. We love Tembo!!"
Our experience of Tembo has been fantastic and we would definitely recommend it to others! They create a lovely, fun, and warm environment for the children and genuinely care for the children as individuals. I'm really happy with my daughter's development. She loves Kay and Celia and enjoys the huge variety of activities provided. She looks forward to every day she spends there. Thank you!
Contact us and schedule your visit – take a peek at our daycare center and have a talk with one of the owners.
Book a trial day (from 9.00 am to 12.30 pm) for your child, if you wish, before deciding if you want to become part of the Tembo pack.
Choose the schedule that suits your needs:
9.00 am – 12.00 am / Collect your child before lunch.

9.00 am – 1. 00 pm / Lunch in Tembo

9.00 am – 3.00 pm / Lunch and nap in Tembo

9.00 am  – 4.30 pm / Your child stays for the afternoon activity
You get to access Tembo a little earlier, so you can talk and meet the whole team.
We keep in touch with you privately, to let you know how your child is getting on. We also send you photos of what they're up to.
Your child stays at Tembo from 9.00 am until 12.00 pm. For as many days as you wish or until you both feel comfortable with the new routine, and environment.
Next thing you know, your child is running in happily to seek new Tembo adventures. 
And your family has become the pack's new members. 
You're interested but still have a few more questions?
Remember Tembo's groups are reduced, so be sure to reserve a place before we get fully booked up.
Fill in the form and send your information. We'll contact you within 48 hours.